All the best cowboys have daddy issues...
This is the title of one of my favorite episodes of the television series
Lost
and also (for me) a great way to introduce this project, which features both an Aurora kit rebranded by Smer which I am building and an Aurora kit rebranded by Monogram which Carlos is building.
It is important to include Carlos, a fellow vintage builder here as partial catalyst and also Carlotta who said, "You have everything you need to put aside the past," and indeed I do have everything; I have eBay, the internet, the will to do it...
I have SPAM.
You.
The best group of rangers around.
Once Upon A Time...
To recap: as a wee lad my Dad stopped me from buying this kit because of the subject. "Don't you think you ought to build an American plane?" Well, I chose British in the end. Aurora's Sopwith Camel. But I never forgave him, I never spoke up either, which is the real reason I held a grudge. He had a point. But I had a point, too. And I should have articulated it.
As I edge closer to 10,000 posts here on SPAM, I am at a crossroads. Enter Carlos. He is as good a man at a crossroads as any I know, and he has a cracking 1:48 Monogram Camel, ex-Aurora vintage, gorgeous in dark green gloss plastic waiting to be built, and I have Smer's repop Aurora in gloss gray plastic waiting since 1972 to have someone crack the seal.
And he said, "Yes, let's build them together."
And do you realize that all the parts fit into a ziploc sandwich bag?
Mind blowing!
So let's articulate the reasons why this aircraft should be built together. And let's honor my father and all fathers and even the all-father.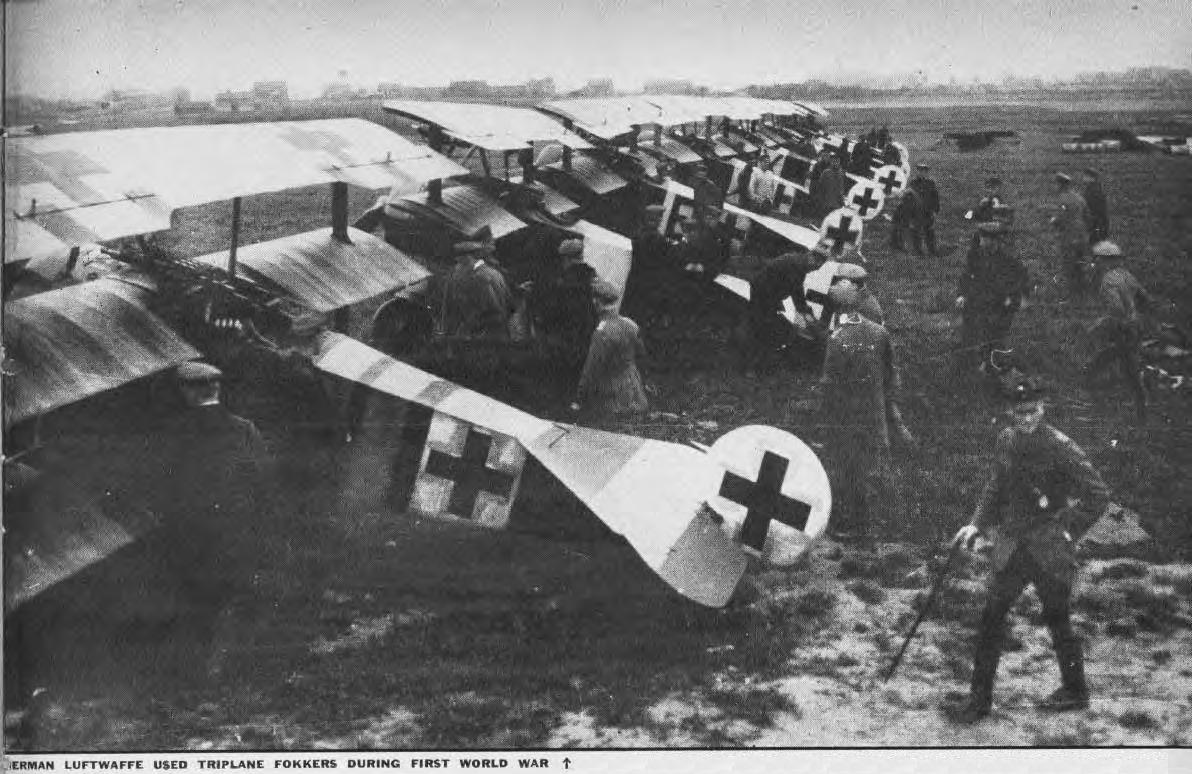 Part One: Subject
Fokker Dr.I 426/17, w/n 2010
Flown by Offizierstellvertreter Otto Esswein (12 victories) of Jasta 26. Unit markings (black and white) earned Jasta 26 the nickname of "The Checkerboards." Esswein's personal marking was his initial.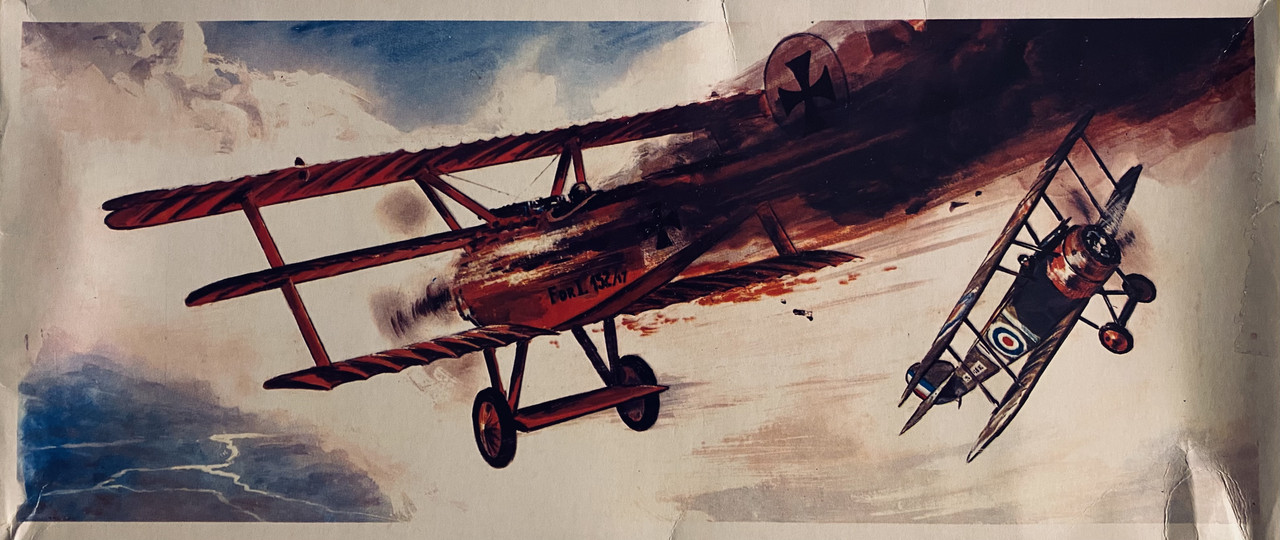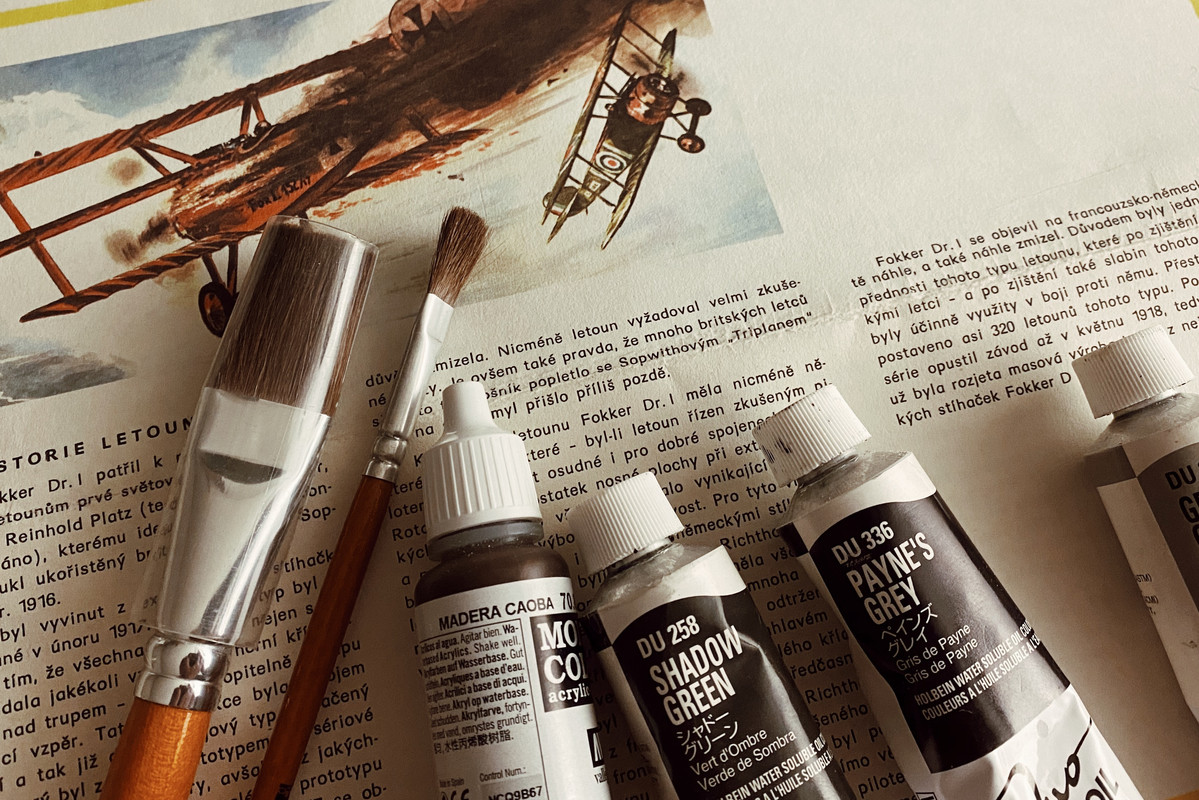 Part Two: Kit
Smer kit (ex Aurora), Scale 1:48
I am such an Ian Fleming fan I think "SMERSH!" each time I see "Smer." Certainly not the same nefarious outfit. At least, I hope not.
Inside are instructions, decals, and 33 parts injection molded in gray. One oddity is a streamlined air scoop shown to attach between the machine guns.
Aurora originally boxed the parts on sprues, so these were removed by the factory. Molding is impressive for the era with no airframe flash (a wisp of flash on the seat, moderate flash on manifold induction pipes of the Oberursel UR-2 rotary engine). Mold seam lines are basically limited to struts with almost no sinks.
Typical of the era, there are visible ejector circles. Most are on the underside of parts except for those on the top of the bottom and middle wings and wing struts. The worst sink I found is a shallow dogbone shaped depression on the fuselage portion of the middle wing. I filled that with Milliput.
The cowl is wrong as the lower cut out is too shallow. Part thickness is out of scale for struts yet impressively thin for trailing edges, the horizontal stabilizer and the rudder. Certainly not what I expected!  Test fitting reveals good fit. A pass of sandpaper along the fuselage should permit glue to seal the slight gaps. Where the cabanes and interstruts mate into wing surfaces would require filler.
As was the fashion of the era, all insignia and data is molded onto the airframe; and I shaved off everything, and I do mean everything, resulting in a nice clean airframe.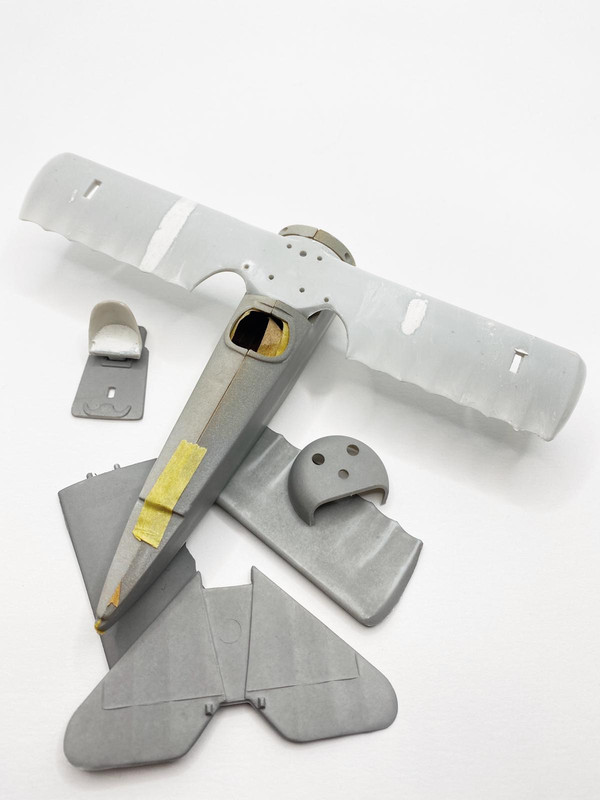 Part Three: Aftermarket
Guns
Oh, yes. Of course.
The next post will be devoted to the Sopwith Camel.