Well, it's been another rather productive week so here's another update. This is all armor again as I'm trying to get more of these done and off the workbench. So, climb aboard the tram for the next tour of Maddog Manufacturing...
I'll start with all the stalled projects that have been waiting for paint. I had some time earlier this week to shoot some paint and such so I shot a base coat of green on my US Paladins first: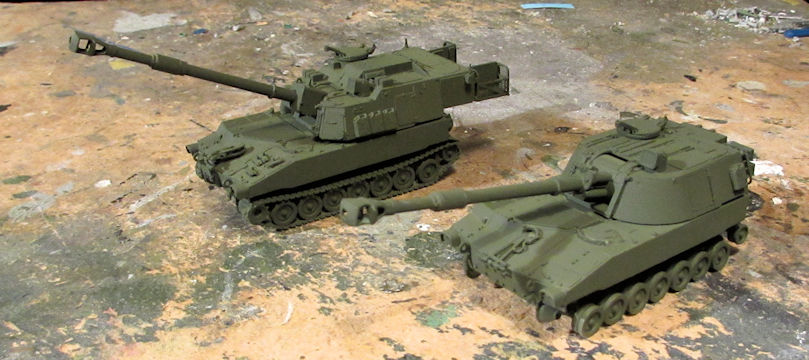 You can see I also added the tracks to the one.
Next was the British FV-432: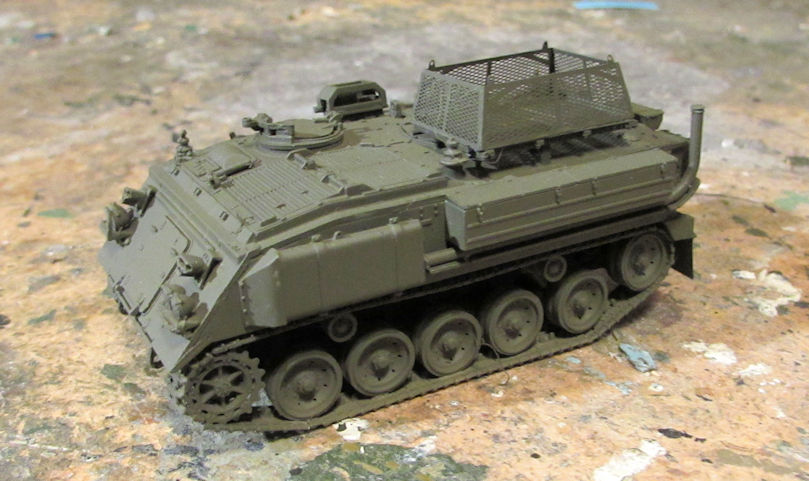 Followed by the three Chieftains:

These will all get the Silly Putty masking later on.
I also shot a base coat on the Canadian Leopard that I needed to finish this month: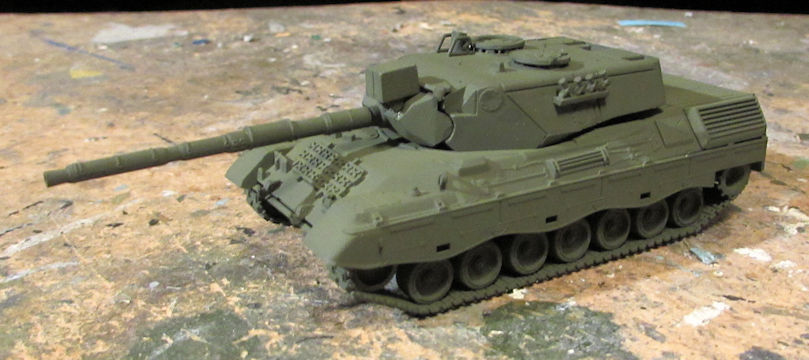 Later I glossed this and added the decals to it. They were all on the turret:

After that came a dull coat and then a coating of dust as I took it out on the range for a test drive: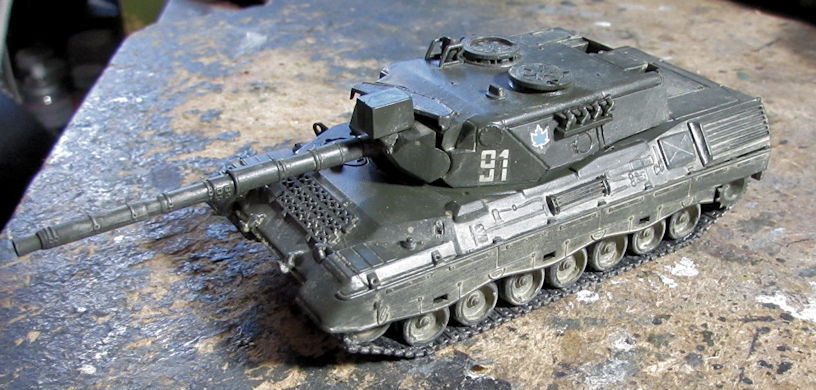 After that came the final bits of detail parts and she was finished!
Next I also put paint on three other small models that had been sitting for a bit. First was the Japanese Isuzu fuel truck: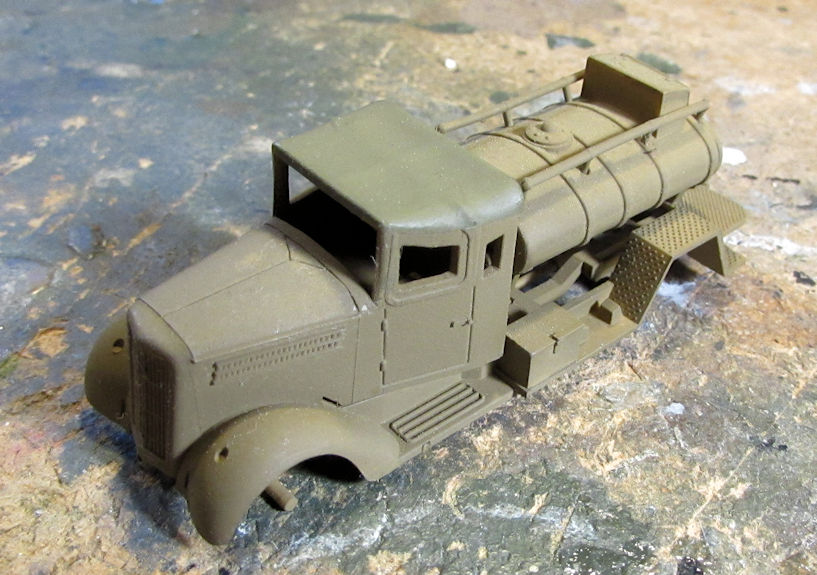 It's hard to tell but the canvas top is a different khaki color. Next was the little German Olympia staff car that I will be making a captured US staff car. I did the interior first, and then after painting the exterior; I added all the extra detail parts. Once I touch this up I'll be able to gloss this and add decals: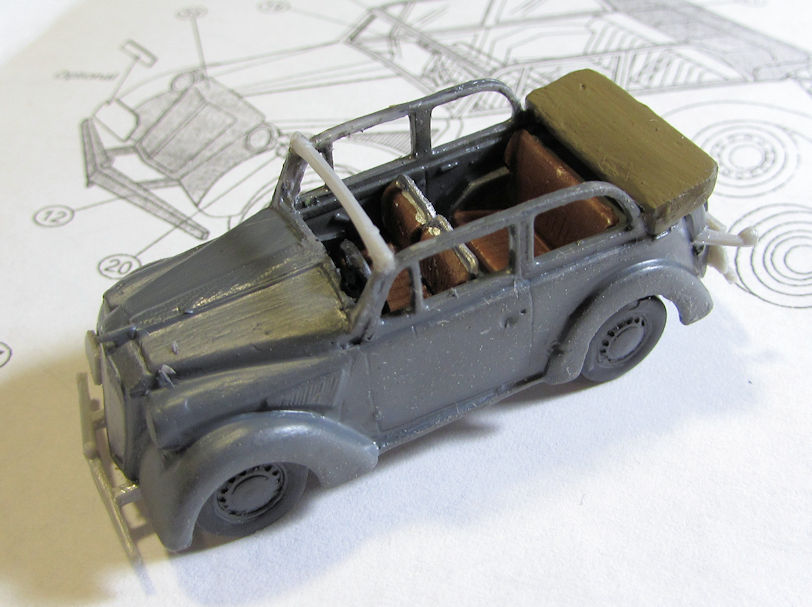 Next up was my Russian AT-1 Snapper which got a base coat of green: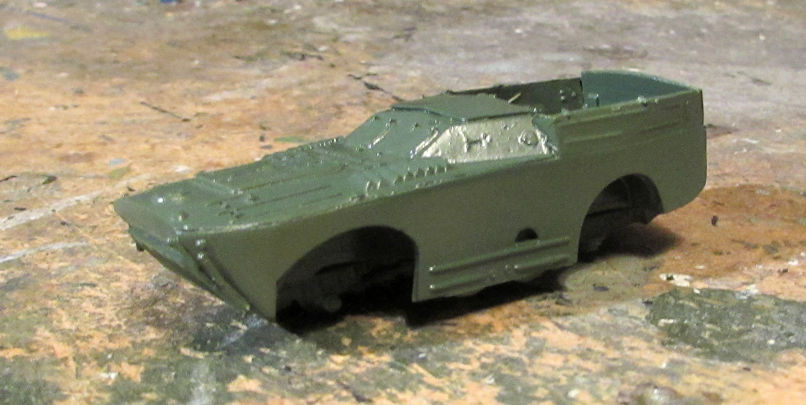 Afterward, since I was decaling the Leopard, I added the decals to this. I also exercised a little artistic license on this too. The instructions say to use either the red banner markings or the '479'; but since I saw there was room for both, I added both:
Next I can add the wheels, cabin doors, and rocket launcher assembly with rockets and I'll be able to finish this up.
The after all this, I shot a dullcoat over my Russian 2S19 self propelled gun and added the outer roadwheels:

After dusting this one up and adding the final parts, I called this one done.
After that, I decided it was time to move forward on the D-9 Dozer. I added the windows to the cab: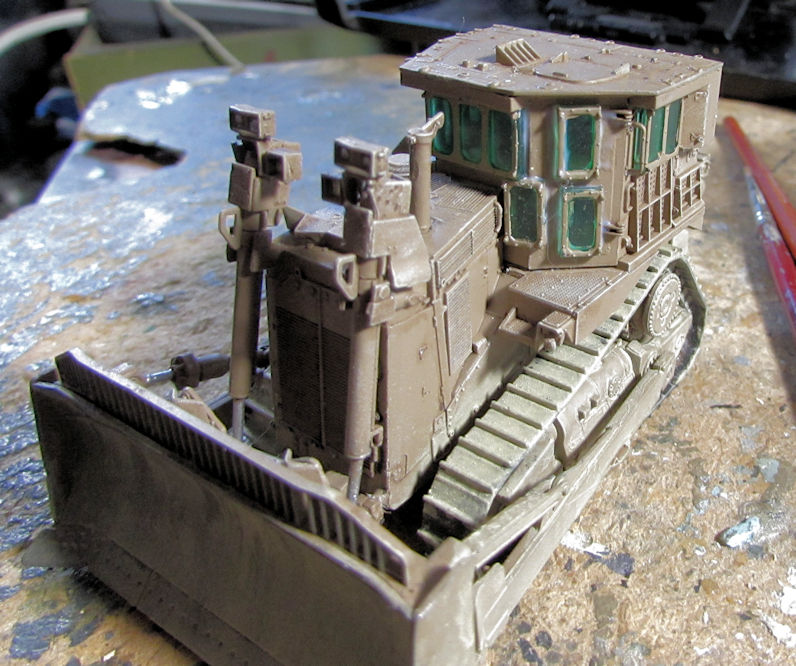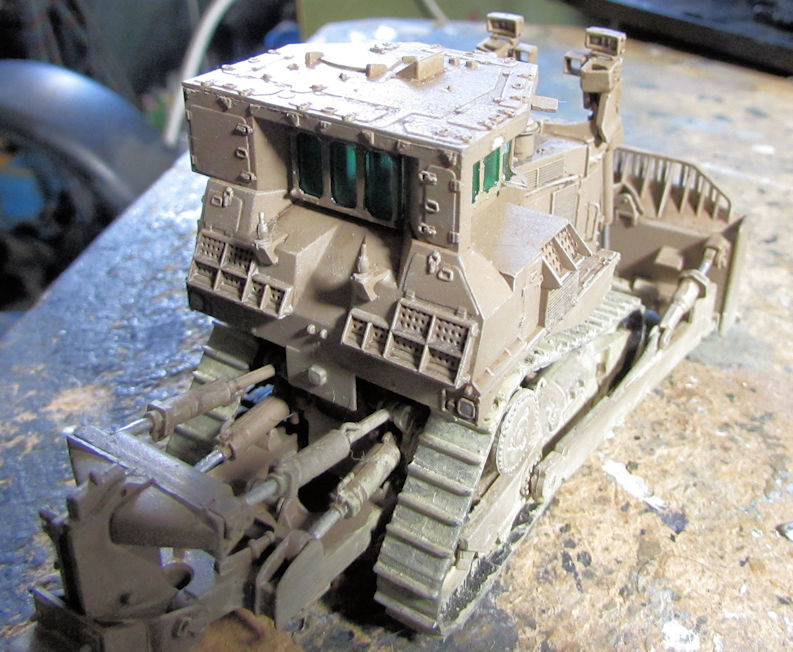 Later on I touched up the paint; repaired some broken parts, did some more weathering, repaired some broken parts, dusted this up, repaired some broken parts, added the metallic dry brush to their respective places, repaired some broken parts... and finally called this one done.
Once I did that, it was time to move forward on the two Omnibuses. Starting with Ole Bill, I masked off the interior to prepare this for painting. It's gonna be an all-over olive drab so not much needed masking: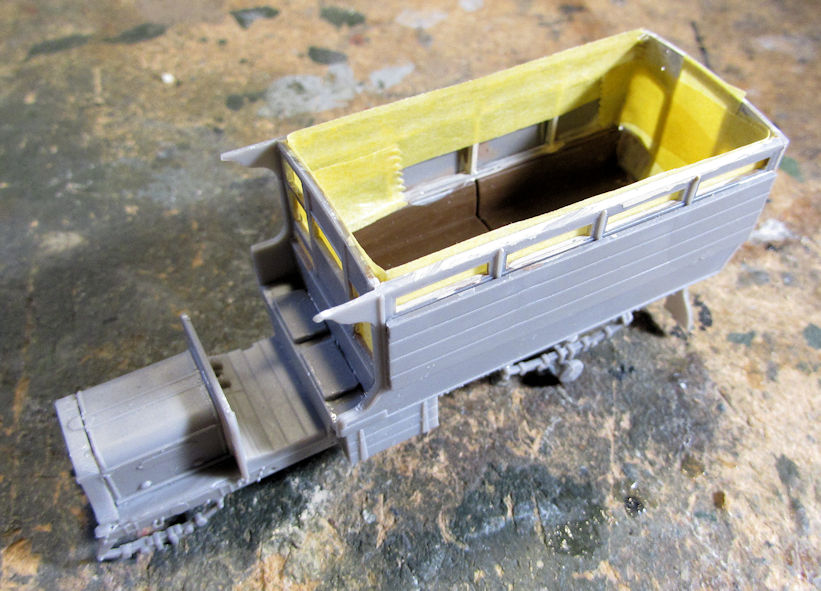 Then I figured I should add the fenders and other parts to this to make sure they got painted too: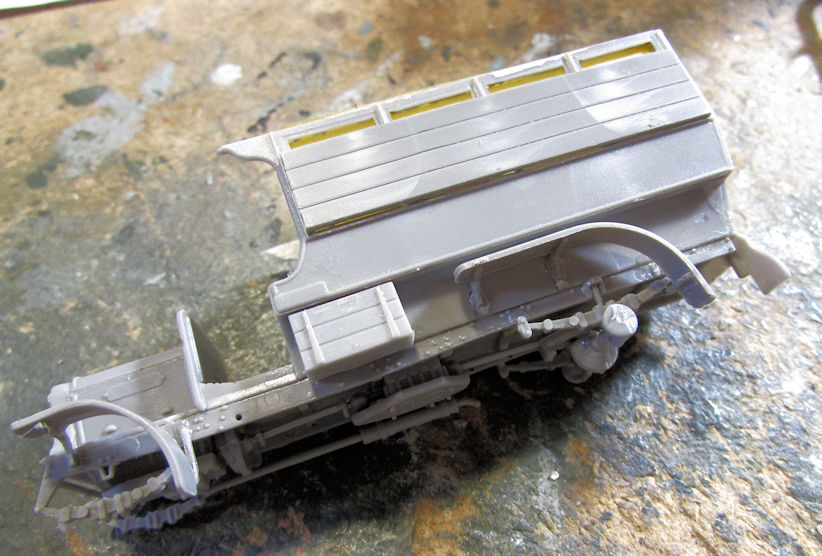 I broke at least five brackets in my attempt to put those fenders on, not bad when you consider there are eight brackets that hold all four fenders!
Later I even added all the driver's controls and steering wheel to the inside. Next was to bring the other Type B bus up to this level. It took a bit more masking as this little bus will be red: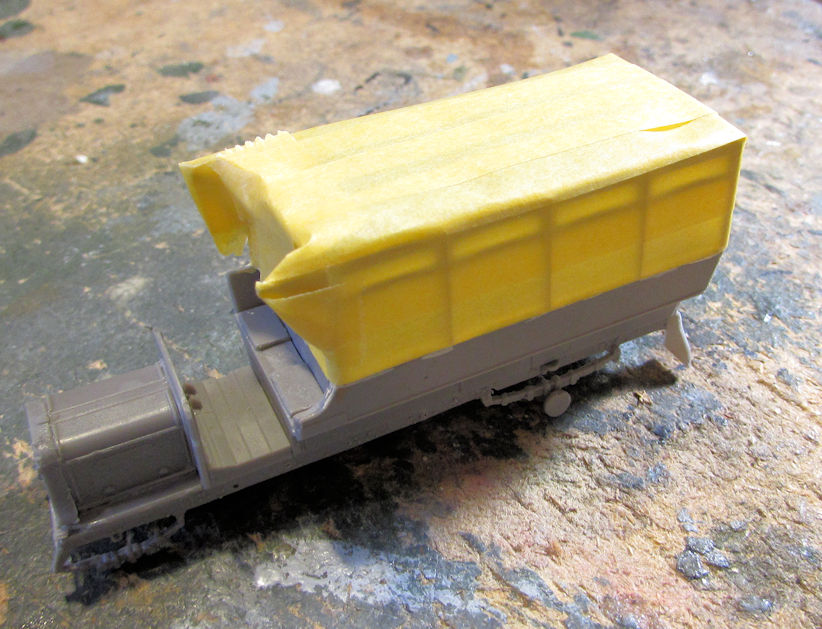 After that I added the fenders, driver's controls and steering wheel and went a bit farther by installing the wheels: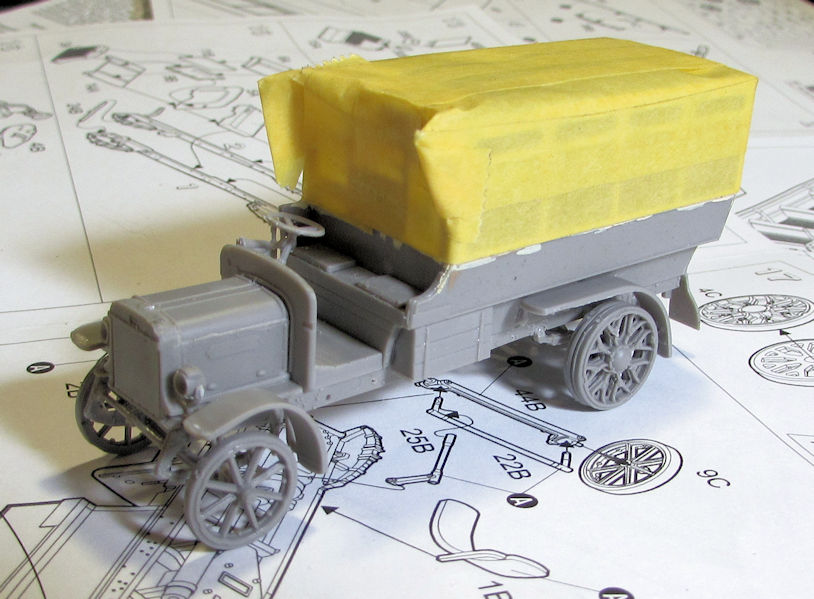 There's a few other detail parts that go on, but because of the risk of breakage, I left them off. Hopefully paint will be shot soon.
And that's all I have for this latest tour. Thanks for looking in, comments are welcome.